By Becca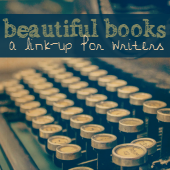 Last month, Beth did this link up with the Notebook Sisters.
And this month's questions were great too, so I decided to jump aboard.
Now, I am not doing NaNoWriMo,
(Kudos to all of you who are though, I don't know where you find the will power.)
(And please ignore the numbering, I don't know what happened.)
Be honest: how is your writing going?
Well, it's going... slowly.
I didn't have everything planned out before I started, which has it's pros and cons.
But having about three chapters left, I think I'll be done in time for the deadline.
What's your first sentence/paragraph?
A copper-haired gentleman wove his way across the ballroom, evading the waltzing couples. His gaze darted over each lady as they swirled past with their partners, searching for a specific face.
He strode pass the gossiping old women, hoping they wouldn't try to snatch him and prod him for a new morsel concerning his sister's engagement.
Well, doesn't that sound booooorrrring.
3. Do you have a book cover, and/or pictures that reflect your book?
4. Do you have pictures of each of your characters? If not, describe them for us! (Be as descriptive as you can.)
Well, I've
introduced these two characters before, Cecile and Dax.
Here is the rest of the gang, minus the Bellerose's father.
He has a
fiery red hair and green eyes, deep smile lines around his eyes and mouth and a lots of freckles.
What scene are you most excited to write?
That's a tough one...
I guess coming down the homestretch is pretty exciting. Tying up loose ends and hopfully throwing in a plot twist or two, I'll be excited just to finish.
Share a snippet or a scene that you really enjoyed writing.
She whinnied, and bobbed her head- tugging at the reins.
"Alright, are you Diamond?" His eyes searched the darkness behind, "I don't see anything-"
The wagon lurched forward as she broke into a gallop, and Dax understood her fear finally, when an unmistakable voice pierced the night.
"Wolves! Oh God, help me!"
He gripped the reins, trying desperately to steer the frantic animal. There were more of them now; their eyes reflected the lantern's glow. The path turned suddenly and oak tree appeared out of the mist. Dax yanked the reins and the wagon veered off, a low hanging branch slashed across his face. Diamond screamed. The wolves ran along side her and one leaped; jaws snapping at her hindquarters.
"God please! This cannot be the end. They'll have no one left."
Now that you're writing, have any of the plot details, or the process itself, turned out different from what you planned or imagined?
Yes they have.
I think nearly every charater has a had a breakthrough during this first draft, details and development I had not thought of before.
It's quite nice when that happens.
Is there a character or aspect of your plot that's difficult to write?
Well, I have one character that is a bit tricky, because he's kind of two
characters...
Yeah, that's difficult to write.
What's your favorite aspect of this novel so far? Favorite character?

Everything, and everyone :) Cheating, I know.
Have you drawn off of any life experiences or people you know to create your novel and your characters?
Having never lived in the 1880s, not really.
Though sadly, some scenes with Caprice were far too easy to write; drawing from my inner bossy and mean sister. :(
Do you have a playlist or certain song for your novel and/or characters?
Oh yes!
There is a song that fits Lucian perfectly.
Let's have some fun for a moment: imagine you are somehow transported into your book's world. Which character are you most likely to be found hanging out with?
How do you keep yourself motivated to finish your daily wordcount? (Pinterest? Internet breaks? Chocolate?)
Not Pinterest, I get lost in there and
rarely
come back on my own.
Mostly, it is just the motivation of finishing the story.
How does this book make you feel so far? Are you laughing? Crying? Frustrated?
It's a sad book. Well, I think it's sad.
But I haven't made myself cry yet....